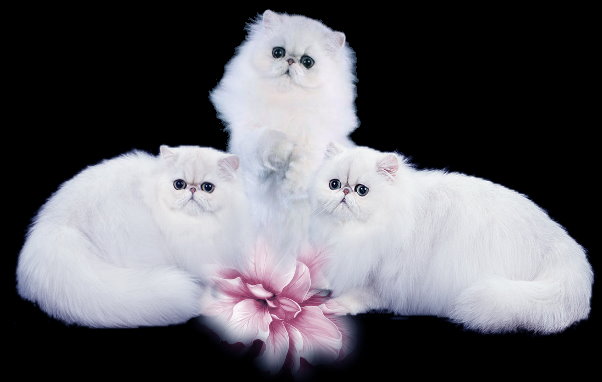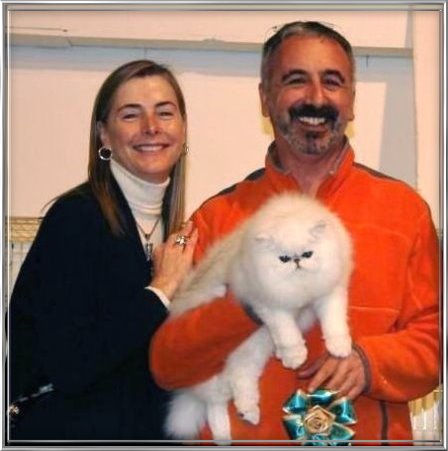 Siumara Meliti and Bruno Picasso


L'allevamento di gatti Persiani Silver ''Lion Blanc '' è stato fondato nel 1989 in Sao Paulo – Brasile, che è anche dove io sono nata e ho vissuto per parecchi anni. Nel 1995 mi sono trasferita in Italia, a Milano. Nello stesso anno Bruno Picasso dell'allevamento Brumar e io abbiamo cominciato a condividere un programma di allevamento comune.
Dopo aver lavorato molti anni insieme condividendo tutti i gatti in comproprietà, abbiamo deciso di unire i due allevamenti '' Brumar e Lion Blanc '', mettendo noi stessi, Bruno Picasso e Siumara Meliti, come comproprietari.
Abbiamo una grandissima amicizia l'uno per l'altro e il grande amore per questa razza ha fatto si che questi splendidi gatti entrassero a far parte della nostra anima. Bruno ed io abbiamo collaborato per alcuni anni con Irene Jensen – Sunnybeach; attualmente lavoriamo con l'allevamento Dolce Amore di Loredana Fipaldini.

The ''Lion Blanc'' Persians Silver cattery was founded in 1989 in Sao Paulo-Brazil, which is also where I was born and lived during several years. In 1995 I moved in Italy, in Milan. In the same year Bruno Picasso, of the Brumar cattery, and I have begun to share a common breeding programme.
After working many years together sharing all our cats in co-ownership, we decided to merge the two catteries ''Brumar and Lion Blanc '' with both of us, , Bruno Picasso and Siumara Meliti, as co-owners.
We have a great friendship and the great love for this breed has made these beautiful cats be part of our own soul. Bruno and I have worked for some years with Irene Jensen of the Sunnybeach cattery; currently we are working with the Dolce Amore cattery of Loredana Fipaldini.